Southeastern Illinois Community Foundation recently announced the recipients of the Bill and Jacquelyn Jordan Anderson Fund for Visual Arts and the Bill and Jacquelyn Jordan Anderson Fund for Youth for 2020. The recipients include Big Brothers Big Sisters, Buckeye Friends School, Crisis Nursery, Effingham Art Guild, Effingham Performance Center, Family Life Center, Preschool for All, Teutopolis FFA, and The Study Shoppe.
Arts Connection of Central Illinois received $2,700 for the Rising Star Showcase program to work with area music teachers to present the 2nd Annual Rising Star Showcase to highlight area music students.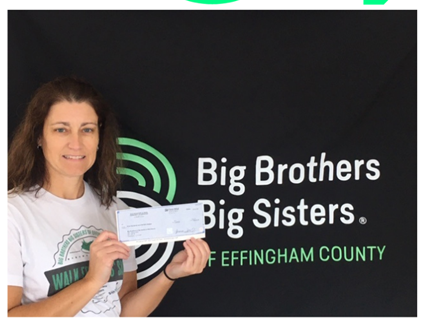 Big Brothers Big Sisters of Mid-Illinois was granted $500 for general operating support. Mid-IL Big Brothers Big Sisters serves an average of 130 youth annually.
Buckeye Friends School was awarded $2,500 for their art program. "At Buckeye, our seeds create multiple forms of expression every day, from sculptures to models, to dioramas, to paper mache, to film, to painting, to drawing, to mural making, and more. Sir Ken Robinson is one of our heroes; we support his efforts and believe that the arts should have the same importance, funding, time, and importance as reading, math, and other disciplines. This is why we include it in so much of what we do," states Kristie Campbell Co-Founder of Buckeye Friends School.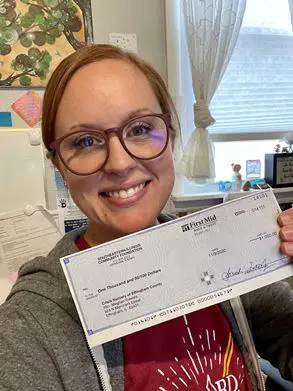 Crisis Nursery was awarded $1,000 to sponsor Crisis Nursery's very first children's Art Auction. Meghan Rewers (pictured above), Director of Crisis Nursery states "The generosity of the Bill and Jacklyn Jordan Anderson Fund from the Southern Illinois Community Foundation supported Crisis Nursery of Effingham County's efforts in putting together the first annual Children's Art Auction Spectacular. This sponsor support helped our first-time virtual event address challenges, purchase supplies and most importantly share the joy and love created by local young artists near and far with our community. We are incredibly thankful for this support from the Bill and Jacklyn Jordan Anderson Fund!"
Effingham Art Guild was awarded two grants, $800 for the Effingham County Children's Art Show. And $2,000 for scholarships to students pursuing a degree that focus on the field of visual arts named after Jacklyn Jordan Anderson.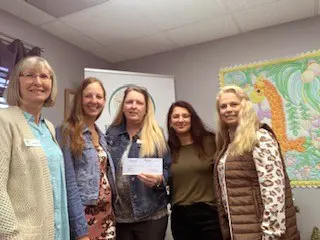 Family Life Center awarded $1,500 for their Momz and Dadz program that educates parents to become the parents their children need. Mary Hovis, the Executive Director of the Family Life Center. States "With this funding, we will be able to pay for our streaming educational material subscription for the whole year, not just in English but also in Spanish. With this support, we hope to be able to help stabilize the families whose children are in foster care or families of other at-risk children. We will be able to offer support and education to help the parents be better parents which will ultimately affect the home life of these children for the better. Thank you again for this grant!"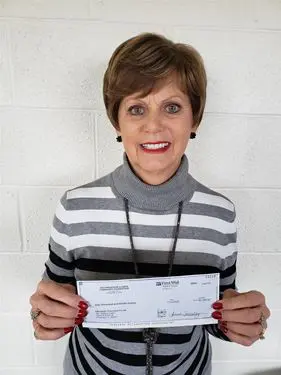 Preschool for All awarded $1,000. "The purpose of the Effingham Scholarship Preschool Program is to provide scholarships to preschool-age children ages 3 – 5, so they can get a preschool education, "explains, Debra Owen.
Teutopolis FFA awarded $1,000 for their "FFA Growing Together" Vertical Growing Towers. This project will allow agricultural students and FFA members to have hands on classroom experiences growing food. The towers would be set up on a rotational basis to allow for the weekly harvest of specialty crops.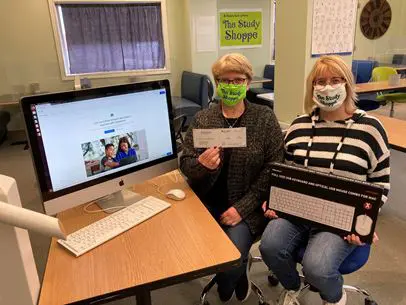 The Study Shoppe awarded $1,000 to purchase keyboards and other computer supplies to compliment the 15 donated monitors. The Study Shoppe is a safe place to work on homework for junior high and high school students.
The Bill and Jacquelyn Jordan Anderson Funds are funds of Southeastern Illinois Community Foundation that awards grants to organizations for programs and activities that support fine arts programs and youth of Effingham County.