Pictured above: Joedy Hightower (left), President/CEO of Southeastern Illinois Community Foundation recently presented Bill Duey, Executive Director of Fit-to-Serve, with a $2,500 Mattoon Area CommunityWorks Grant.
The Mattoon Area CommunityWorks fund advisory committee recently announced the recipients of its 2018 grant cycle. The recipients include Fit-to-Serve, Mattoon in Motion and Special Olympics Illinois.
Fit-to-Serve was granted $2,500 for its "Better Together" program, to increase its collaborations with local community partners and increase programming opportunities with the birth to 3 and early childhood programming in the Mattoon community. Fit-2-Serve currently offers programming to K-5 students and seeks to strengthen early childhood education by supporting bridging opportunities for the families of the birth to 3 and 3-5 children. The three bridging opportunities to be supported in partnership with other agencies are monthly family education classes and monthly family nights during the academic year (September through April) and a Learn-2-Grow program during the summer (May through August).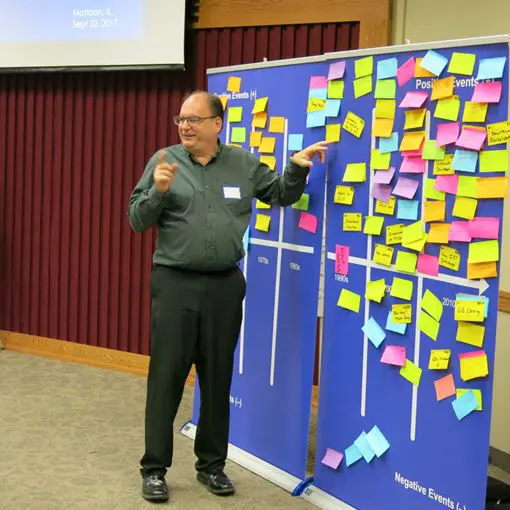 Pictured above: Ed Dowd, Executive Director of Mattoon Chamber of Commerce, leads a discussion group during the Mattoon in Motion MAPPING process.
Mattoon in Motion received $5,000 to support its yearly operational costs. Mattoon in Motion was created in the fall of 2017 when a cross-section of more than 80 passionate community members came together and participated in a series of planning sessions initiated by the Mattoon Chamber of Commerce, the Southeastern Illinois Community Foundation and the MAPPING community planning program offered by the Illinois Institute for Rural Affairs at Western Illinois University. Out of these planning sessions, community members created six long-term community development goals for the city of Mattoon, Illinois. These six long-term goals are: workforce training and development; economic development /robust economy; tourism; youth development; parks and recreation; and housing.
Special Olympics Illinois received $580 to purchase equipment kits for the Special Olympics Illinois Young Athletes Program at Riddle and Williams Elementary Schools in Mattoon. The Special Olympics Illinois Young Athletes Program provides free eight-week curriculum based motor activity skills training and practices to all children, with and without disabilities, ages two to seven years old. The Young Athletes programs are introduced in preschool, kindergarten, and first grade levels as an all-inclusive motor skills, social skills, and healthy bodies initiative for the development for students physical, mental, and social well-being. Trainings are free and paid for by Special Olympics Illinois, but the equipment kits for the schools must be purchased and maintained at each school.
The Mattoon Area CommunityWorks Endowment is a fund of Southeastern Illinois Community Foundation and distributes annual grants to support workforce development, early childhood education and childcare, and land use and protection.